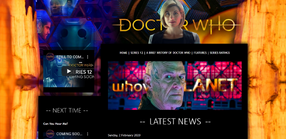 Whovian Planet

Name:

Whovian Planet

URL:

Formed:

2008

Team:

Ryan (Admin & Owner)

Current Status

Online
WhovianPlanet.co.uk is a online website based around the popular BBC ScFi Show Doctor Who. Whovian Planet has been running since 2008 and has saw many changes to the design and platform that it runs on.
The main focus of the website is to keep fellow Whovians up to date with the latest on the show.
Whovain Planet has a had a lot of closures and re openings over the years, the Website was frist created on a Free Wesbite Bulider titled Piczo.com under another name, when Piczo moved to there Blog Platform we moved onto Blogger.com but felt that the site could not be run of a Blog 

Platform which is when we joined Zymic giving us the chance to design our very own look.