The Doctor Who News Page
Edit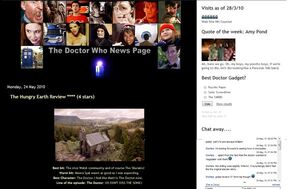 http://the-doctor-who-news-page.blogspot.com/ is a blog that covers all aspects of TV Doctor Who and its two spin offs The Sarah Jane Adventures and Torchwood. The blog is updated quickly with news, reviews, images, videos, speculation, spoilers,fanfic, Did you Know and more. The blog has 29 followers and has had nearly 6000 views since it started on March 22nd 2010. The blog is ran by Mr Dalek a Whovian through and through.
Ad blocker interference detected!
Wikia is a free-to-use site that makes money from advertising. We have a modified experience for viewers using ad blockers

Wikia is not accessible if you've made further modifications. Remove the custom ad blocker rule(s) and the page will load as expected.